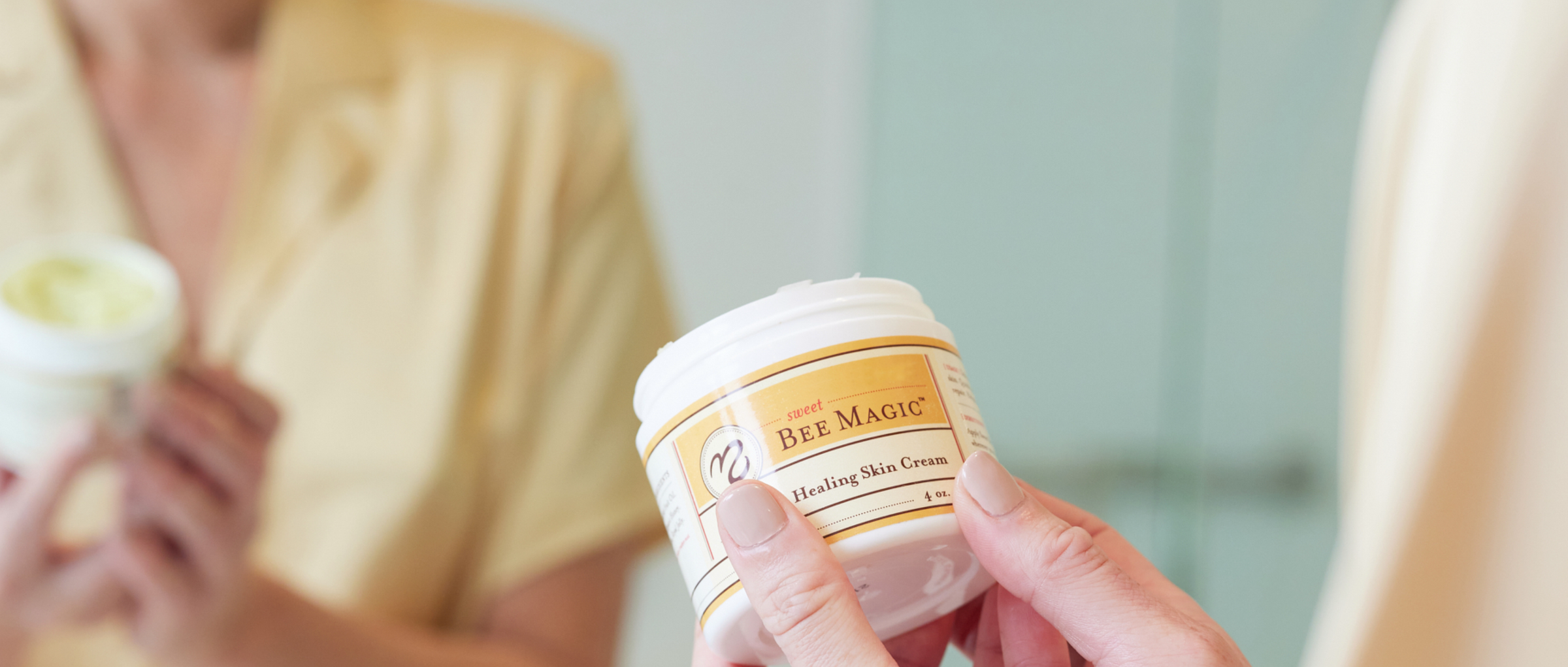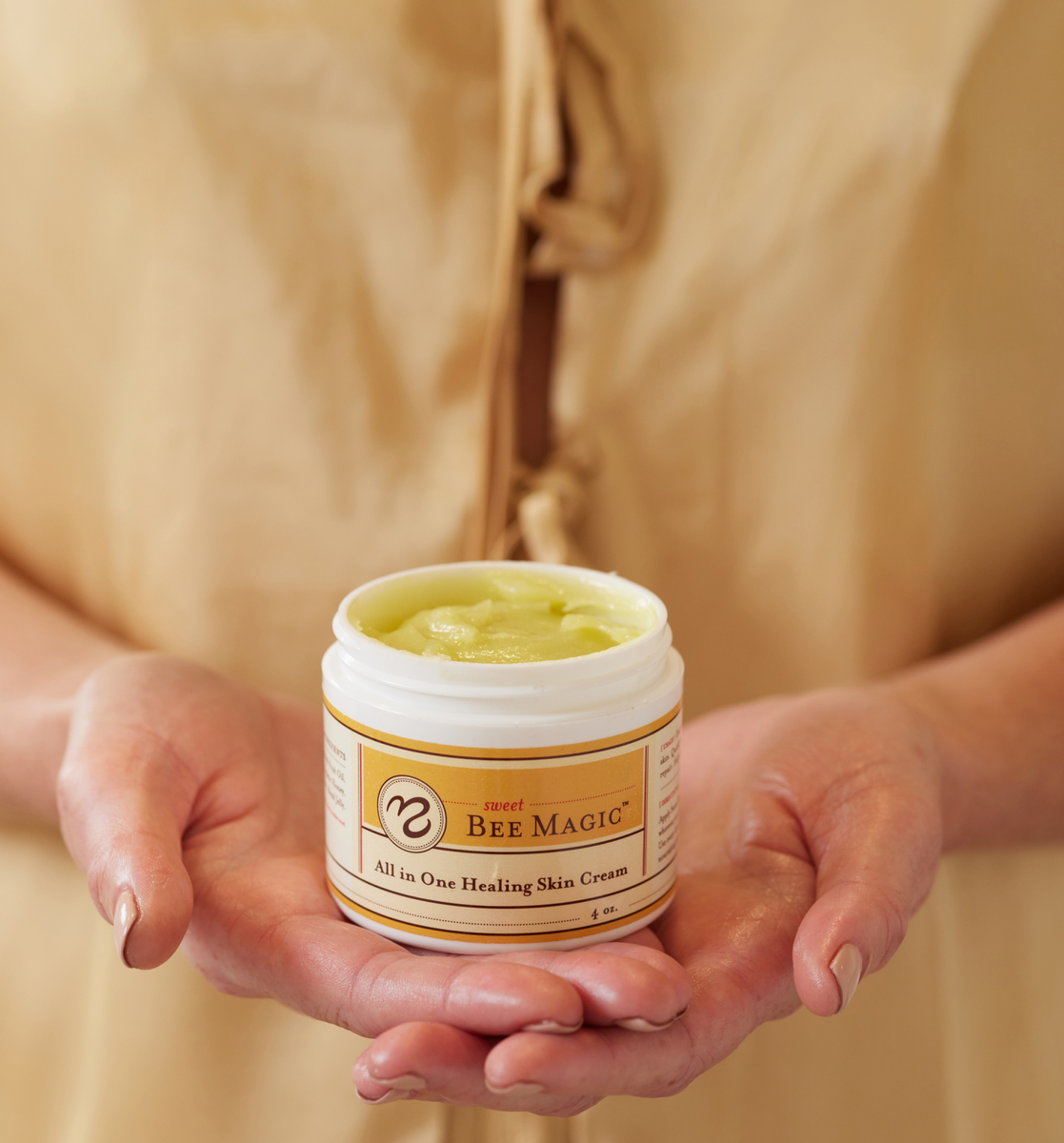 Sweet Bee Magic has helped thousands of customers
overcome their skin concerns. Read their stories below.
Sweet Bee Magic balm is gentle and safe enough to use on a variety of skin conditions.
★★★★★

"Having acne prone skin, I was hesitant to try the Bee Magic. I am now about half way through a 4oz container and I've experienced no noticeable correlation between any breakouts and using this product. I use it every night on my face and my hands and chest area. I think the quality of my skin has improved over the past few months and I love that I'm not using chemicals to obtain a nicer complexion. I think this product has helped my skin handle our rough New England winters tremendously well. Enjoy!"

–Brandi

Sweet Bee Magic
★★★★★

"This product is a godsend (so far). It may be too soon to tell, but my skin feels soft and calmer, my acne lesions are clearing up and the redness and inflammation is slowly fading. Sometimes I feel a very mild itching on my chin (where my acne is most severe) as the product settles in but it doesn't feel like a reaction, more of a healing process beginning."
★★★★★

"I had a stubborn white pimple sort of thing just over my eye for several months. When I started using the Bee Magic Wand, it just mysteriously vanished after about a week! Now I use it as an eye and face cream every day. Thank you!!"

Sarah

Sweet Bee Magic Wand
★★★★★

"This stuff is awesome, I highly recommend it! I can already see that my face is clearing up and my black heads are disappearing! Thank you Medicine Mama's for making this new product!"
Recommended by dermatologists, aestheticians, cosmetic surgeons and burn centers.
★★★★★

"Fantastic cream! I use the sweet bee magic cream for my face which is otherwise really dry. My dry skin and eczema prone spots love the moisture! Enjoy the sample packs too- great for travel."

Kristina

Sweet Bee Magic
★★★★★

"I have had trouble with eczema ever since I can remember, this time of year is so rough on my hands they are usually cracking and splitting. This stuff has done wonders and I don't even have to apply it threw the day, I just put it on once in the morning and once at night and my skin is softer then it has been in years. Thanks so much for a great product!"

Mary

Sweet Bee Magic
★★★★★

"Perfect for dry winter skin and for eczema. I use this product as an eye cream during the day and also for my dried and eczema prone lips. Lighter than the Sweet Bee magic skin cream but equally moisturizing. I have very sensitive skin and this is the only thing I can wear as eye cream."

James

Sweet Bee Magic Wand
★★★★★

"We just received this yesterday - both my daughter and I have skin conditions I thought this would be helpful after reading some reviews. My daughter has a mild case of eczema and I have a mild case of chronic plaque psoriasis on one knee and my elbow. I put this on right before bed last night and this morning the silvery scales almost all disappeared. I am very pleased with this product and will recommend it to anyone who might ask."

Scott

Sweet Bee Magic
★★★★★

"Great for skin problems, a little will go a long ways. Helps clear up zits and bug bites. Shipping was fast."

Opal

Sweet Bee Magic
A head-to-toe solution for the whole family, Sweet Bee Magic has more than 20 uses.
★★★★★

"I bought this on a whim because I am very attuned to bee products and the ingredients looked lovely. I had no idea I was about to fall in love with a jar. You might never be able to pry this stuff out of my cold dead hands. For once, I bought this for myself just because the ingredients drew me in. I expected a balm that might be helpful for the occasional scrape or rash for myself or my dogs. I found much more than that! I tried it first on areas of my lower legs which had developed red spots after some hormonal treatments. Nothing worked on those and I thought I was to have these small ugly spots for life. They were immune to everything both topical and internal that I tried. What the heck, I applied the balm daily for about two weeks before I noticed the spots were fading. It took some time, about three months I think, and they are almost completely gone. I continued to use the balm because it also felt wonderful on my dry skin so it was easy to stick with it. Three months might sound like a long time, but to me having those ugly spots for over three years and unresponsive to anything it was nothing. It's so pleasant to use that it just became part of my routine and that time flew right by." 

Elizabeth

Sweet Bee Magic
★★★★★

"I picked up a sample of your cream at Whole Foods... I live in the northeast and every year experience splits in the skin at my fingertips... One night of using this cream and my hands are 95% healed. I cannot tell you how happy I am to have found this amazing product. I am off to buy a jar and it won't (bee), ha ha, my last. Thank you so much."

Susie

Sweet Bee Magic
★★★★★

"I cannot even explain what a miracle worker this product is. Nothing was helping my dry skin, tried and spent too much time and money on products that just did not do the job, one day using this product and bam! Soft skin! Amazing! My young daughter started breaking out, started using the cream after washing, her face is completely clearing up. Absolutely amazing! Also helped a good friend's face with a allergic reaction, her face was broken out, raw and enflamed, your cream cleared it up and she immediately bought a 4oz tub. I cannot say enough good things about this, I use it daily. My face looks amazing! It's natural and can be used for so many things, the healing properties are just fantastic. Thanks for making a product that not only works but is safe, natural and affordable!"

Anna

Sweet Bee Magic
★★★★★

"Using Sweet Bee Magic Cream has been a very delightful, delicious experience for my skin. The cream blends into my skin so organically, as though nature intended it to work synergistically with my skin cells, blending in so completely, as if the oils were my body's own oils. I have also been challenged with a temporary skin problem causing the appearance of redness and rash. The cream has soothed the itching, helping my body heal away the inflammation. I feel as though I need not buy any other cream for my body. Sweet Bee Magic will fill almost all my skin needs. Also, I might add that a little goes a long way."
★★★★★

Add customer reviews and testimonials to showcase your store's happy customers.

Denise

Sweet Bee Magic
★★★★★

"I have dishydrosis, which has in the past year or so become very bad on my hands. The skin on my hands, especially between the fingers, has become so dry that it is -- and I do not exaggerate -- a lot like sandpaper. I could fill in for a malfunctioning Dremel tool. Additionally, what with the wretched Boston winter, the corners of my mouth started cracking and would not heal. Then I read about bee propolis, and found this product at the local natural store. It's amazing. This is the best skin product I have ever used. It's better than my dishydrosis medication, it's better than Vitamins A & D ointment (which I had around from getting tattoos), its better than ... anything I know. My mouth corners have finally healed: I can eat an apple again!"

Glenn

Sweet Bee Magic Wand
★★★★★

"The Bee Magic Wand goes everywhere with me. It has such a smooth, yet thick consistency that I'm able to put it on anything and everything. And it stays on, especially my lips that get so cracked when it's cold out. I feel like I've got new lips after I've put this on. It only takes a few applications to repair anything that's cracked and splitting. My knuckles always hurt when I'm out driving, which is why I keep the wand in my purse. I love having this magic with me at all times!"

Dorothy

Sweet Bee Magic Wand
★★★★★

"Following more than two weeks of a bad cold, I had chapped lips, chapped nose and an irritated upper lip moving toward cold sores. I bought this at the suggestion of a woman at a food coop, applied it to my chapped lips and nose before bed and in the morning all irritation was entirely gone. I now use it as lip balm and, when traveling, on my face. An amazing product."

Sydney

Sweet Bee Magic Wand
Sweet Bee Magic is a pure, natural skincare brand that binds certified organic ingredients with raw honey and propolis.
★★★★★

"I have extra dry skin. Other creams are always dry out within an hour but not this one. It is sticky but worth to use for my dry skin. I already finished 2 of them and will keep order it. I also like its ingredients."

HV Mercy

Sweet Bee Magic
★★★★★

"I have dry, sensitive skin that is very easily irritated and gets extra parched in the winter, due to the dry air in my office. I ordered the sampler of the Sweet Bee Magic and I am so happy I did. My skin stays soft all day, with no flakes or itchiness. The redness is almost non-existent, and the little bumps I used to have on my forehead are basically gone. I love how rich this feels - it's almost an indulgence to rub it on. I use it morning and night, and have had zero breakouts, which is amazing - it's actually helped clear my pores out."

Heather

Sweet Bee Magic
★★★★★

"It's been a god-send this winter! Usually I have hangnails and cracks all over my hands this time of year. Now that I use this before going to bed, my hands are completely clear and so soft. My husband has started using it, too."
★★★★★

"I've applied this cream over dry patches and scratches that aren't healing. So far, it's smoothing them out and softening the texture of my injured skin."
★★★★★

"I use this on my face, body and keep small containers all over to put on my cuticles. This product is helping me get through the winter with soft, smooth skin. I love it."

Chris

Sweet Bee Magic
★★★★★

"By far the best skincare product that I have found for my hands during the winter. My hands will get very dry and irritated in the winter, but when I use this product it keeps my hands moisturized and soft. Highly recommended!"

G Thomas

Sweet Bee Magic
★★★★★

"I have extremely dry and sensitive skin and this product addresses that without any harmful chemicals, I would def recommend."

E. Pfluger

Sweet Bee Magic
★★★★★

"I bought this product based on the many positive reviews and was pleased with the product. It is quickly absorbed and spreads over the skin smoothly. Texture reminds me of a salve. Does not have a strong odor; mild smell nothing awful. Great product for winter weather to help keep skin moisturized. I would recommend it to my friends."

TJT

Sweet Bee Magic
★★★★★

"I have dry skin. Everything I put on it seems to evaporate in thin air. This is the first thing that I can tell a noticeable difference. Love it!"

Rebecca

Sweet Bee Magic